Gasp!
From ZineWiki
Jump to navigation
Jump to search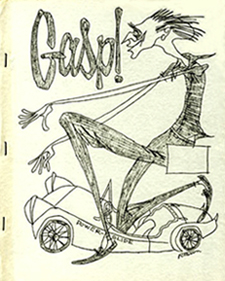 Gasp! was a science fiction fanzine by Gerald A. Steward.
Published in Toronto, Ontario, Canada in the 1950s, Gasp! was one of several fanzines published by the group of fans known as 'The Derelict Insurgents'. At least 20 issues appeared.
Art work was contributed by Pat Patterson, among others.
Gerald Steward was also the editor of Canadian Fandom during the early 1950s. Steward brought with him to the zine friends P. Howard Lyons and Ken Hall, as well as Pat Patterson, Boyd Raeburn and Ron Kidder. They were known for their liking of Beat poetry, jazz, leather jackets and fast cars, aside from all being fanzine editors, writers and artists. To differentiate themselves from the previous group of Toronto fans, called 'The Toronto Derelicts', this new group called themselves 'The Derelict Insurgents'. Shortly after Steward began editing Canadian Fandom, P. Howard Lyons and Pat Patterson Lyons join forces to produce Ibidem, Raeburn began A Bas, and Steward was publishing Gasp!.
Gasp! was a Canadian Amateur Fan Publishers (CAFP) zine which, in the 1950s, also included A Bas by Boyd Raeburn, Damn! by Norman G. Browne, Deja-Vu by P. Howard Lyons, Escape by Fred Woroch, Fie by Harry Calnek, Filler by Norman G. Browne and Dean Grennell, Ibidem by P. Howard Lyons, and Mimi by Georgina Ellis.