Easter Wine
From ZineWiki
Jump to navigation
Jump to search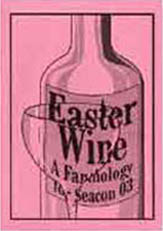 Easter Wine was a science fiction anthology fanzine edited by Claire Brialey and Mark Plummer and published by Seacon '03.
Subtitled, "A Fanthology for Seacon 03", Easter Wine was a one shot fanzine created especially for the British national science fiction convention, the Eastercon.
Easter Wine reprinted the best, or most appropriate work that had been written by Eastercon's Guests of Honor. Included is (in order of appearance): Ken Slater, Ethel Lindsay, Peter Weston, Peter Roberts, Robert Silverberg (from Spaceship), Leroy Kettle, Graham Charnock, Jim Barker, Dave Langford, Ian Watson, Avedon Carol, James White, Christopher Priest, Greg Benford, Linda Krawecke, John Jarrold, Pete Lyon, Greg Pickersgill (from Stop Breaking Down), Rob Hansen, Pam Wells, Roger Robinson, Colin Greenland, Paul Kincaid, Maureen Kincaid Speller, Martin Tudor, Chris Evans, Mary Gentle and Chris Baker.
Artwork by Chris Baker, Jim Barker, Rob Hansen, and Pete Lyon is also included.
External Links