Boy Trouble
From ZineWiki
Jump to navigation
Jump to search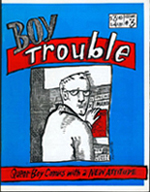 Boy Trouble is a zine devoted to queer comics, created by David Kelly and Robert Kirby.
Since its inception in 1994, four issues were released, with issue five being released in book form on the tenth Anniversary in 2004.

Contributors to Boy Trouble have included Anonymous Boy, editor of the zine Homopunk World, Craig Bostick, Cathy Camper, Jennifer Camper, C. Bard Cole (co-editor of the zine Riot Boy), Michael Fahy, Leanne Franson, Andy Hartzell, G.B. Jones, Jeffery Kennedy, editor of Boysville U.S.A., Nick Leonard, and Sina, creator of the comic BoyCrazyBoy, among others. Back issues of Boy Trouble zine are still available at David Kelly's website.
Previously, Robert Kirby had been the editor of the comic zine Strange-Looking Exile. He is also the creator of the syndicated comic Curbside.
The Book Of Book Trouble
In 2006 the anthology The Book of Boy Trouble was released, collating the best of issues 1 to 4 of the zine, as well as additional new work.
See also
External link