Strange-Looking Exile
From ZineWiki
Jump to navigation
Jump to search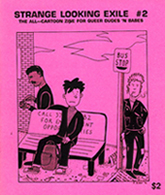 Strange Looking Exile was a compzine by Robert Kirby.
Published in Minneapolis, this queer comics zine first appeared in 1991. Aside from Kirby's own comics, contributors included Alison Bechdel, Roberta Gregory, Nick Leonard, Michelle Rau, and Diane DiMassa. The zine ran from 1991 till 1994 and during this time five issues were released until coming to the end of its run. In 1994 Kirby released a new comic zine called Boy Trouble, which soon included David Kelly as co-editor.
Strange Looking Exile was featured in the Factsheet Five Zine Reader.
See also