Black Triangle
From ZineWiki
Jump to navigation
Jump to search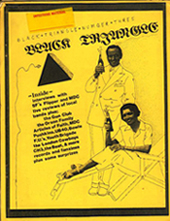 Black Triangle is a punk zine published in Peterborough, Ontario, Canada.
Writers and photographers for Black Triangle were Craig Burgess, Graham, Dave Higham, Arnold Layne, Jim Shedden, Steve, Vacuum, and Vic.
Black Triangle covered the punk scene in Ontario. Issue three featured reviews of shows like out-of-town acts Articles of Faith, F.U.'s, The Gun Club, The Orson Family, The Ramones, UB40; Toronto bands Afhakken, Breeding Ground, Direct Action, Fifth Column, Section Eight, The Palace at 4 A.M., Polkaholics, United States, Young Lions, Youth Brigade, and Zeroption; Ottawa bands The Pushkins, and Civil Terror; Peterborough band Creative Zero; interviews with Flipper, and M.D.C.; and reviews of zines such as All The Drugs You Can Eat, Assassin of Youth, Bomb Factory, Caustic Soda, Echoes, F Noise, Goog Poogly, The Livin' End, The Living Eye, The Offense Newsletter, Pages of Rage, Ripper, Savage Pink, Schrik, Suburban Relapse, Terminal Terminally Echo, Truly Needy, We Got Power, and What Goes On.
Issue four was a split zine with The Hanged Men Dance. This issue featured an interview with Toronto band The Polkaholics; reviews of Toronto bands Burning Ring, Raving Mojos, Jumpin' Kangas, Three Blue Eyes, and Hype; and a short article by John Crawford entitled "The Baboon Expose 9-11-83", about how the father of the owner of I.R.S. Records is the Assistant Deputy Director of the C.I.A. Contributors for this issue were John Crawford, Graham, Jim Shedden, Arnold Layne, and Steve.
Jim Shedden also published the comics zine Gratis and the science fiction zine This Sure As Hell Ain't DNQ, and was co-editor of The Hanged Men Dance and This Tiny Donkey Looks Rather Lost.