Gratis
From ZineWiki
Jump to navigation
Jump to search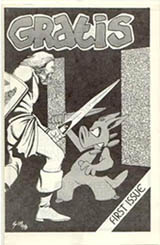 Gratis was a zine published by Jim Sheddon.
Gratis was published in 1978 in Canada. it is a 5 1/2 by 8 1/2 inch sine with a black and white cover, and is 32 pages.
The front cover is by Dave Sim, and features his comic character "Cerebus". This issue featured the interview "The Man Behind the Aardvark" with Sim, who is well known for the comic series, Cerebus The Aardvark.
Jim Shedden was also the publisher of the science fiction fanzine This Sure As Hell Ain't DNQ, and one of the co-editors of the punk zines Black Triangle, The Hanged Men Dance, and This Tiny Donkey Looks Rather Lost.