Aurora
From ZineWiki
Jump to navigation
Jump to search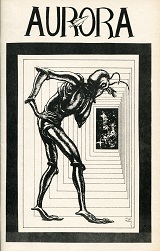 Aurora was a science fiction and fantasy zine published by the New York University Science Fiction Society.
The first issue was edited by Victor Dricks and published in March 1974.
Aurora contained fiction by Sally Dee, an interview with A.E. Van Vogt, poetry by George Diezel II and Walter Shedlofsky, editor of Inner Circle, as well as news, and book reviews.
Also included was an article by Victor Dricks on Gerry de la Ree, editor of the 1940s fanzines Loki, Beowulf, Sun Spots, and the 1970s zine Clark Ashton Smith - Artist, and art collector and publisher of books on the Weird Tales pulp magazine artists Hannes Bok and Virgil Finlay.
Cover art was by Virgil Finlay. Frank Kelly Freas, Roy G. Krenkel, Bill Lorenzo, and Val Mayerik provided interior illustrations.