Snarl
From ZineWiki
Jump to navigation
Jump to search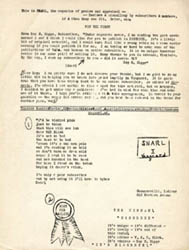 Snarl was a science fiction fanzine by Virginia Kidd (as Virginia Blish).
Subtitled "the magazine of praise and appraisal", Snarl was published in the U.S.A. under Virginia Kidd's married name of Virginia Blish, and was released during her marriage to James Blish in the 1940s.
Snarl was an apazine and issue one was published in April 1948 for the Vanguard Amateur Press Association. It consisted of exchanges, in prose and verse, between Kidd and Ray C. Higgs, editor of The National Fantasy Fan, and later the fanzines Arion, Fantasia, and The Explorer.
Eleven issues of Snarl were released.
Virginia Kidd would go on to publish the poetry fanzine Kinesis in the 1960s.