Godless
From ZineWiki
Jump to navigation
Jump to search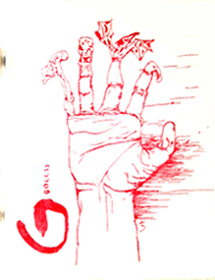 Godless was a science fiction fanzine by Bruce D. Arthurs.
Godless was published in Fort Lee, Virginia, U.S.A. in the 1970s. Issue 3 was released in Spring 1973, and the last issue, 14, in September 1976.
Contributors of writing included Sheryl Birkhead (The National Fantasy Fan); Donn Brazier (Farrago), with "Stop Shaking the Boat—You're Making a New Wave"; D. Gary Grady, with "Fighting Words on Astronomy,"; Lord Jim Kennedy; Doug Leingang; Dave Locke (Pelf, Awry); and Michael T. Shoemaker (Oxytocic), among others.
Contributors of artwork included Bruce Townley (Oblong), among others.
Letters came from Roger Elwood, and Paul Walker, among others.
In an issue from 1973, Arthurs interviewed Roger Elwood, editor of a number science fiction anthologies during the 1970s. The article, "Roger Elwood: A Personal Reaction", which appeared in Godless, was later reprinted in Dick Geis' Science Fiction Review.
Darroll Pardoe, in Checkpoint 47 from April 1974, says of issue 6; "Reasonable material, a mixture of sercon and fannish, and an interesting letter... " and Checkoint 51, from August 1974, says of issue 7; "Nice furry animal article by Dave Locke. Imagine leaving a guard-spider in your house! Incidentally, Bruce, Godless arrived on July 25th.
Bruce D. Arthurs also published the fan anthology Fanthology 75.