FuBar
From ZineWiki
Jump to navigation
Jump to search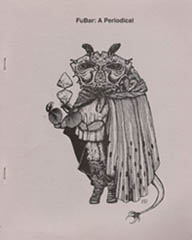 FuBar was a small press publication devoted to H. P. Lovecraft, edited by Joseph Bell.
FuBar was published in the 1980s in Toronto, Ontario, Canada. Six issues of FuBar appeared, and each issue was signed and numbered. The first issue was published in 1983.
The theme for issue 3, which appeared in 1986, was "Cats and Dogs". it featured writing by Wayne Edwards (Palace Corbie), and a reprinting of "Cats & Dogs", by Lovecraft. Cover art was by Jo.
Issue four was devoted to "At The Root" by Lovecraft and was released in 1986. Cover art was by Jo.
Issue 5 was devoted to Lovecraft's essay, "The Materialist Today" and was published in 1986, with cover art by Jo.
Issue 6 was the final issue, and featured bibliographies and essays about prominent Lovecraftian small press publications, such as The Lovecraftsman, Nyctalops, The Dark Brotherhood Journal, Crypt of Cthulhu, and others, and came out in 1987. Cover art was by Brenda Neufeld. Interior art work was by Brenda Neufeld and Roger Stewart.
Under his Soft Books imprint, Joseph Bell has published the bibliographies Howard Phillips Lovecraft: The Books 1915-1981 in 1981; Howard Phillips Lovecraft: The Books, Addenda and Auxiliary in 1983; The Books of Clark Ashton Smith; William Hope Hodgson, Night Pirate and The Books of Clive Barker, in 1988.