The Tryout
From ZineWiki
Jump to navigation
Jump to search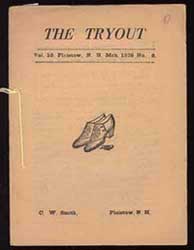 The Tryout was an amateur press publication published by Charles W. Smith from his home at 308 Groveland St. in Haverhill, Massachusetts, U.S.A.
First released in 1914, The Tryout was a National Amateur Press Association publication. Charles Smith had a printing press in a shed in his backyard where he put it together. The publication was noted for its typographical errors, referred to by H.P. Lovecraft as "tryoutisms". The Tryout is noted as the publication that first published many of H. P. Lovecraft's stories, poems and articles, as well as those of others of his circle, including Clark Ashton Smith.
Other writers who work was included in The Tryout include Chester Prince Munroe, writing "My Friend--H.L.: A Poet of the Old School", a tribute to Lovecraft in the March 1937 issue; as well as Hazel Pratt Adams (The Brooklynite), Blanche Blood, Helen Hoffman Cole, Anna Helen Crofts (a Lovecraft collaborator), James Lawrence Crowley, August Derleth, Muriel E. Eddy, Rose L. Elmore, Alfred Galpin, Jr., Arthur Goodenough, Jonathan E. Hoag, Winifred Virginia Jackson (The United Co-Operative), Myrta Little, Andrew Francis Lockhart, Pearl K. Merritt, Dorothy Louise Morton, James F. Morton, Jr., Marianne Oberton, Henriette Posner, Laura A. Sawyer, Mark Schorer, J. Vernon Shea, Jr., and many others.
Certain works included in the publication indicated the friendship between the writers, and included the poems To Jonathan Hoag Esq. (Feb 1918) by Lovecraft; Lovecraft: An Appreciation (Apr. 1918) by Arthur Goodenough - with the same year seeing a response in the form of Lovecraft's poem To Arthur Goodenough, Esq (Aug. 1918); and To Mr. Hoag on his Ninety-fourth Birthday, February 10 by Lovecraft.
Lovecraft wrote under various pseudonyms for The Tryout, including Lawrence Appleton, Alexander Ferguson Blair, Archibald Maynwaring, Henry Paget-Lowe, Ward Phillips, Richard Raleigh, Ames Dorrance Rowley, Edward Softly and Lewis Theobald, Jr.
Also included in The Tryout is a five part history of amateur journalism written by Lovecraft, which began in the February 1920 issue.
Charles Smith (1852-1948) was a correspondent of both Lovecraft and Smith. He kept publishing right up until 2 years before his death.