The United Co-Operative
From ZineWiki
Jump to navigation
Jump to search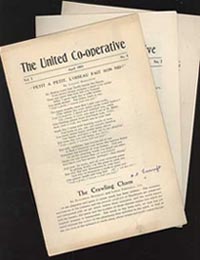 The United Co-Operative was an amateur press publication published in Providence, Rhode Island, U.S.A. under the auspices of the United Amateur Press Association.
The editors were W. Paul Cook (The Vagrant), H. P. Lovecraft, Winifred V. Jackson, Maryetta Lehr, and Rev. J. Clinton Pryor. Maryetta Lehr was not present for the second issue, but they were joined by Philip B. McDonald.
Three issues of this title were published, the first in December 1918, the second in June 1919, and the third and last in April 1921.
The editors contributed material to each issue, and the first issue is composed entirely of the editors writings.
Rheinhart Kleiner, and Lovecraft both wrote on John Oldham in the June 1919 issue (#2). Contributions to this issue also came from James Laurence Crowley, Andrew Francis Lockhart, S. Lillian McMullen, and Annie Pearce.
For the third issue, Lovecraft was joined by editors W. Edwin Gibson, Anne Tillery Renshaw, and Rev. John Clinton Pryor.
The weird fiction story, "The Crawling Chaos" by Winifred V. Jordan and H. P. Lovecraft, as "Elizabeth Berkeley and Lewis Theobald, Jun." appeared in the third issue, with other contributions by Eugene B. Kuntz, Samuel Loveman, and Lillian Middleton.
Lovecraft biographer S. T. Joshi writes, "Another idea Lovecraft put forward to encourage amateur activity was the issuing of cooperative papers -- papers in which a number of individuals would pool their resources, both financial and literary. He attempted to teach by example by participating in such a journal, THE UNITED CO-OPERATIVE".