The Brooklyn Reporter
From ZineWiki
Jump to navigation
Jump to search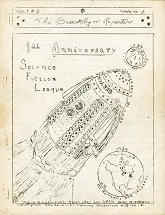 The Brooklyn Reporter was a science fiction fanzine edited by George Gordon Clarke of Brooklyn, New York, U.S.A.
The Brooklyn Reporter ran for five issues from February to October of 1935.
It was the official organ of the Brooklyn chapter of the Science Fiction League (chapter #1).
Contributors included Forrest J Ackerman (Imagination!), C.A. Brandt, George G. Clarke, Hugo Gernsback, Charles D. Hornig (The Fantasy Fan), Henry James, "Planet Rambler", A.L. Selikowitz, Vic Shea, T. O'Conor Sloane, Frederick Orlin Tremaine, Bob (Wilson) Tucker (Le Zombie), Art Widner (FanFare), and Donald Wollheim (The Phantagraph).
The Brooklyn Reporter also included letters from Margaret Ennis, E.C. Reynolds, and others.