Spock
From ZineWiki
Jump to navigation
Jump to search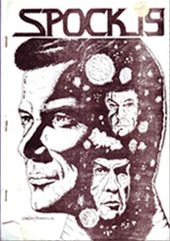 Spock (1976-1994) was a media science fiction fanzine published by the Austrek fan club.
Spock was published in Melbourne, Australia. Sixty-five issues were released during the run of the fanzine. It began in the 1970s as a fanzine for the Star Trek original television series, and later expanded to included other shows and movies based on Star Trek. It also included original fiction. Lillian Forbin edited the fanzine in the late 1970s, Linda Powell was one of the editors in the early 1980s, followed by Cherry Wolfe in 1985. In 1990 Wendy Purcell became editor, followed by George Ivanoff in 1993, John Prentice in 1994, Katharine Shade (The Captain's Log) (from issue 69).
Contributing writers included Geoff Allshorn (The Captain's Log), Sakura Allison, Heather Anthony, Betsi Ashton, C.E. Ballis, Ian Bedier, Jana Bos, Jenny Bozovic, Ingrid de Bree, Jennifer Bremner, C.J. Brennan, Sue Bursztynski (Tales from New Wales), Jane Callard, Claire Cooper, Allison Cowling, Robyn Cullen, Samantha Dare, Charlotte Davis, Ruth Dick-Smith, Chuck Farnsworth, Lilliane Forbin, Christine Foster, Kathleen Gaitely, Paul C. Gascoigne, Angela Hanslick, Diane Harris, C.A. Hawkins, Craig Hooper, Sue Isle, Andrew Ivanoff, George Ivanoff, Ben James, Robert Jan, Patricia Kerslake, KumaBachi, Irwin Lowe, Jan MacNally, Marion MacNally, Diane Marchant, Barbara Maxwell, Jan McDonnell, Andrew McGee, Rebecca McGroaty, Ian McLachlan, Jeffrey A. McNair, Robert Mirnik, Karen Mitchell, Monica Mitchell, Teresa Morris (Truffles), Paul Murphy, Gail Neville, Tracey Oliphant, M. Perry, Marianne Plumridge, Madeline Pratt, Raelene Prislan, Wendy Purcell, Nocholas Rigby, Kelvin and Helena Roberts, Helen M. Sargeant, Katharine Shade (The Captain's Log), Eleanor Sharpe, Lu Sheridan, Helen Staker, Helen Steer, Ron Stein, Teresa Strati, Yuri Trembath, I.J. Turner, Mary P. Watson, and Christine Watt.
Contributing artists included Gail Adams (The Captain's Log), Sakura Allison, C.E. Ballis, BUG, Sue Bursztynski, Bernice Cuffe, Elizabeth Czepiel, Betty De Gabrielle, Greg Franklin, Tracy Hamilton, Robert Jan, Angelo Keene, Bill Kenedy, Irwin Lowe, Mike McGann, Andrew McGee, Paul Murphy, Tracey Oliphant, Marianne Plumridge, Sally Poole, Wendy Purcell, Pam Randall, David Richardson, Elsie Sagar, Gail Schultz, Vernon Sunderford, Zaquia Tarhuntassa, Kerri Valkova, and Ros Von Werstak.
Covers were by Gail Adams, Elizabeth Czepiel, Greg Franklin, Kerri Valkova, Paul Murphy, Wendy Purcell, and Rick Taylor.
Contributing poets included BUG, Tracy Adamczyk, Betsi Ashton, Mark Bartlett, Ruth Dick-Smith, Lillian Forbin, Kerrin Hill, George Ivanoff, Robert Jan, KumaBachi, Anita Livings, Dean Mark, Rhonda Noonan, Greg Plecko, Marianne Plumridge, Helena Roberts, Helen Sargeant, Susan Smith-Clarke (Beyond Antares, Medtrek) and Ros Von Werstak.
External Links