Sourpuss (Sara McCool)
From ZineWiki
Jump to navigation
Jump to search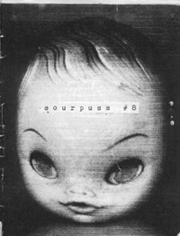 Sourpuss is a zine by Sara McCool, published in the 1990's.
Sourpuss was initially published in Pittsburg, Pennsylvania while Sara was in High School and later published from Purchase, NY, where the editor attended University.
In various issues, Sara's zine featured such highlights as an interview with the Columbus, Ohio band Chanel #5; an interview with Renee Spivey, Vice President of the Gang Peace Council; an article on the distance between the character of Tracy Turnblad in Hairspray and Rikki Lake, the real-life actress who portrayed her; an article that Schenley High School newspaper refused to print, about the homophobia of her high school principal who would not allow same sex couples to attend dances; and an interview with the Purchase, NY band Pinchu Macha. Sara also wrote many very personal pieces about the intolerance of society towards those who are bi-racial and fat.
Sourpuss featured contributions from Mario S. about living in straight society without rights, a rant by Bill M. about the power of ugliness, a poem by Kyle A., a poem by Sara's cousin Heather, who was no longer allowed to come to her house, a list entitled "Six Reasons That Killing Your Local High School Gym Teacher, Varsity Football Coach, or Masturbating Is Much Cooler Than Doing Drugs..." by Doug of Fatboy Fan Club zine, a comic called The Bitch Strip by J.S. Potter, Nikki from the band Pinchu Macha writing about the power of sexuality, and Matt, offered the story, "The Tale of Yoda the Rabbit".
Sourpuss also featured reviews of zines such as Double Bill, Fatboy Fancub, Fat Girl, Fat!So?, Feeble, and Girl Power.
During the run of the zine, Sara and her friends started the Pittsburg chapter of Riot Grrrl and there are many references to this in Sourpuss. In issue 9, Sarah writes of her experience going on Oprah to talk about Riot Grrrl. After weighing both pros and cons, Sara decides that despite the fact she's making money for Oprah, she would like to have the chance to address other young women and encourage them to "go and start something."