Sister Nobody
From ZineWiki
Jump to navigation
Jump to search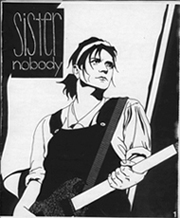 Sister Nobody is a zine released in San Francisco, California, U.S.A. by Laura.
Published in the early 1990's, Sister Nobody was among the early wave of queer zines, and a proto-type for Riot Grrrl. Laura played in the band Snakepit with Billy Karren, who was soon to join the band Bikini Kill.
Laura begins the introduction of her zine with an explanation of the title; "when i was a kid, i knew this girl who had a best friend named sister nobody. i could never see her or hear her or talk to her or play with her, but the other girl could any time she wanted to. i never questioned sister nobody's existence, i just wondered so much where she came from and why i couldn't know her and why she had to be a secret....this little girl wanted something that she couldn't find in her world, so she created it. i guess thats what im trying to do (with this zine)."
Issue one of Sister Nobody contains a short essay on the book, Unnatural by Sloan Britton: (from the cover, reproduced in the zine) "a vivid and searching novel of forbidden love in the twilight world of the third sex"; as well as articles; fiction; an interview with Jenny Olay of Some Velvet Sidewalk; an autographed photo of Tatum O'Neal, inscribed to Laura; reviews of recording by Lunachicks and Babes In Toyland; and reviews of the zines J.D.s, Homocore, Chainsaw, and My Comrade/Sister. Contributors included G.B. Jones, Bruce LaBruce, and Deke Nihilson.
Issue two contains editorials, an article called "How Sinead Helped My Dad Understand Me", about how Sinead O'Connor visited Laura's dad, who is a doctor, and she talked to him about his daughter and helped him understand Laura better; a photo essay about girls who dress up as members of Kiss; a tribute to Frida Kahlo; and a piece on attending catholic school.