Sissy Butch
From ZineWiki
Jump to navigation
Jump to search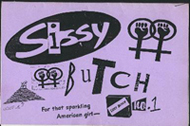 Sissy Butch is a zine by Caroline and Lori.
Sissy Butch was published in Pittsburg in the 1990's. The first issue featured articles like "Crushes Suck"; "Frat Pigs"; "Hard of Hearing?", about feeling obligated to mother grown men; and "Lighten Up" about dieting and anoxeria. Also included is an interview with a straight couple that are asked questions such as "How long have you been straight?", "Did you have a bad experience with a homosexual relationship?" and "Have your parents accepted your heterosexuality?" There is information about the Pittsburgh chapter of Riot Grrrl that the editors belong to. Reviews of zines like Beyond The Wall Of Injustice, Busy Bea's Bush, Girl Fiend, Girl Germs, Hangnail, Plantive Wombat Gazette, Riot Geeek, Riot Grrrl New York, Slug & Lettuce, Sourpuss, and Warfear are also included.
Issue two features the articles "Asshole Drunkard Time"; "Everything You Need To Know About Orgasm"; "Strobe", about going to a rave; and the comic "The Tube Crew". Also included are reviews of zines such as Action Girl Guide, Alienation & Privilege, Griselda, Kitten Kore, Pawholes, The People From Off, Purse, Slut Utopia, Smart Like Eve, Voice Box, Wallflower and Wrecking Ball.