Busy Bea's Bush
From ZineWiki
Jump to navigation
Jump to search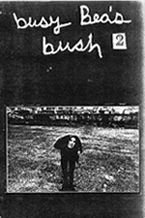 Busy Bea's Bush was a personal 'zine created and written by Nicole Beatrice Emmenegger.
Along with personal writings there are accounts of the Riot Grrrl Pittsburg chapter which Nicole belongs to, outlining some of their activites and aspirations. The zine also features reviews of recordings by Bikini Kill, Bratmobile, Frumpies, Heavens to Betsy, and Slant 6; brief accounts of live shows by Tiger Trap and an incident at a Scrawl/Fugazi show; going to visit G.B. Jones; and listings of zines such as Action Girl Guide, Creme Brulee, Function, Lardass, Pawholes, Queenie, the Riot Grrrl Press catalog, Sourpuss, and Wee Hours.
Based in Bethel Park, Pennsylvania, U.S.A., three issues of the zine were released from 1991 to 1993. It was later known as Beri-Beri.
Busy Bea's Bush is included in the Sarah Wood Zine Collection at Duke University; the Sarah and Jen Wolfe Collection at The University of Iowa Libraries; and the Sophia Smith Collection at Smith College.
External Links