Beri-Beri
From ZineWiki
Jump to navigation
Jump to search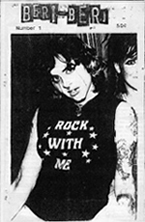 Beri-Beri was a personal 'zine created and written by Nicole Beatrice Emmenegger.
The zine was in existance from 1993 to 1996 and was based in Pittsburgh, Pennsylvania and Yellow Springs, Ohio. Emmenegger had previously done a zine known as Busy Bea's Bush.
The cover of issue one features Squid from the band Lunachicks. In this issue, along with personal writings, the editor includes a playlist with bands like Blondie, Charlie Brown Superstar, Corndolly, Crass, C.W.A., Dadamah, Dame Darcy, Dog Faced Hermans, The Ex, The Friggs, Heart, Helium,Lucious Jackson, Melt Banana, Opal, Phranc, The Raincoats, Scissor Girls, SF Seals, Siouxsie and the Banshees, Slint, Patti Smith, Team Dresch, Moe Tucker, Versus, Wormhole, Young Marble Giants.
Issue two contains a comprehensive guide to bands with women members and an extensive playlist. Also included is a list of the editors favorite zines, including; The Adventures of A-Girl, Alien, Boredom Sucks, Caught In Flux, Cuss, Face, Firecracker, Girl L.U.V., Googlebox, Kult Princess Suicide, Kusp, Libel, Phreek, Runt, Sourpuss, That Girl, V-Reject.
Issue two was a split zine issue with Miss Mary Mack.
Beri-Beri is included in the Sarah and Jen Wolfe Zine Collection at The University of Iowa and in the collection of the GLBT Historical Society of Northern California in San Francisco.
External Link