Miss Mary Mack
From ZineWiki
Jump to navigation
Jump to search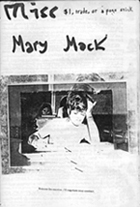 Miss Mary Mack is a perzine by Marina.
Accompanying personal writing, the zine includes a piece on Dorothy Parker; a reprint from the editor's personal zine done at age eleven; reviews of recordings by bands such as Behead, The Crabs, Guv'nor, Jon Spencer Blues Explosion, Polvo, and Slant 6; a review of the independent film Half-Cocked by Suki Hawley and Michael Galinsky; a record review of Songs and Cries of the World's Peanut Vendorsa compilation of on-site musical performances by Peanut Vendors from countries around the world; and reviews of such zines as Babykins, Clara, Don't Say Uh-Oh, Frog Prince, Go To Hell Cornell and The Sludge Pond.
Contributors included Emily Daffodil, Gregory Hischak, Nickel and, William Falejczyk.
One issue of Miss Mary Mack was a split zine with Beri-Beri.
Miss Mary Mack is included in the Sophia Smith Zine Collection at Smith College.
External Link