Imelod
From ZineWiki
Jump to navigation
Jump to search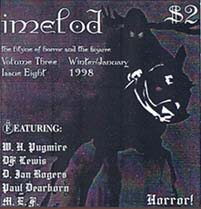 Imelod was a litzine of horror and the bizarre published in Scarborough, Ontario, Canada, by Todd H.C. Fisher.
Imelod was subtitled "the litzine of Mythosian horror" and was dedicated to H. P. Lovecraft's Cthulhu Mythos. 17 issues appeared between the years 1996 and 2000.
Contributors include James Ambuehl (Cthulhu Cultus), Paul Dearborn, M.E.F., Stephanie Bedwell-Grime (Timeframe), D.F. Lewis, Wilum Pugmire (Idiot Chaos), D. Ian Rogers, Octavio Ramos, Jr., Stanley C. Sargent, Ron Shislet, Rebecca Strong, Jeffrey Thomas and Michael Tice.
Art was by Mark A. Damicis, Toren G. Atkinson, and Chris Woods.
The zine also featured interviews with S.T. Joshi and Wilum Pugmire.
Stephanie Bedwell-Grime was nominated for the 2000 Aurora Award for Best Short-Form Work in English for her story Skin Deep, which appeared in the January 1999 issue of Imelod.