Henry Kuttner - A Memorial Symposium
From ZineWiki
Jump to navigation
Jump to search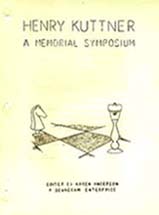 Henry Kuttner - A Memorial Symposium is a science fiction fanzine edited and published by Karen Anderson.
This title was published in 1958 in California, U.S.A., upon the death of writer Henry Kuttner that year. It is a 36 page mimeographed publication with stiff cardstock covers, and only 100 copies were produced.
Henry Kuttner was a well know writer of weird fantasy for pulp magazines, most notably Weird Tales, from 1936 through to the 1950s. He often worked in collaboration with his wife, C.L. Moore (Catherine Moore). They met through their association with the "Lovecraft Circle", the group of people who had corresponded with H. P. Lovecraft while he was alive and also writing for Weird Tales.
Contributors included Karen and Poul Anderson, Robert Bloch, Anthony Boucher, Ray Bradbury (Futuria Fantasia), and Fritz Leiber. Donald H. Tuck contributed a bibliography of Kuttner's writing.
Artwork was by Edd Cartier and John Grossman.
In the 1950s, Karen Anderson also published the fanzines Alif and The Zed.