Gorbett
From ZineWiki
Jump to navigation
Jump to search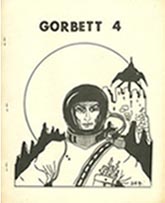 Gorbett was a science fiction fanzine by Beth Gorman and David Gorman.
Gorbett was published in New Castle, Indiana, U.S.A. David Gorman was a member of IDFA (Indiana Science Fiction Association) when he first began publishing the fanzine. The first two issues were titled SF Waves. The change of name to Gorbett came with issue 3, which was published in March 1973. Issue 4 followed in the same year; numbers 5 to 10 came out in 1974, and issues 11, 12 and 13 in 1975.
Contributors included Dave Burton (later editor of Pixel), Cy Chauvin, writing on Thomas M. Disch; Juanita Coulson (Yandro), Mike Glicksohn (Energumen, Xenium), Richard Labonte (Hugin and Munin), Andrew Offut, Dan Osterman, Darrell Schweitzer, Sheryl Smith, writing on Harlan Ellison; Leon Taylor, writing on Philip K. Dick; and Harry Warner, Jr. (Horizons).
Artwork was contributed by Margaret Dominick (as DEA), Phil Foglio, and William Rotsler, among others.