Chronoscope
From ZineWiki
Jump to navigation
Jump to search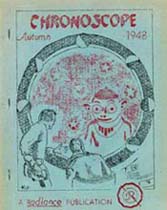 Chronoscope is a science fiction fanzine published in Autumn 1948 by Redd Boggs.
It is announced on the front cover as a "Redlance" publication.
Contributions included "Five Book Bookshelf" by David H. Keller and "Flaming Fans" by Art Rapp (Spacewarp), which has been cited as being the first use of the phrase "pulp science fiction".
Rog Phillips, in his fanzine review column "The Club House" in the February 1949 issue of Amazing Stories, reviewed Chronoscope, saying, "it's a steal at fifteen cents".
Only one issue of Chronoscope appeared, and it was then merged into Bogg's other zine Sky Hook.
Redd Boggs would later go on to edit many other fanzines including Shangri L'Affaires and The Lovecraftsman.