Censored
From ZineWiki
Jump to navigation
Jump to search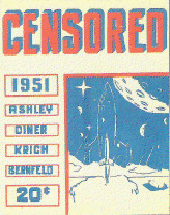 Censored was a science fiction zine published by Fred Hurter, Jr. from 1941 till 1951 in Canada.
Six issues of Censored appeared. Hurter published the the first issue in June of 1941 while still a student at St. Andrew College for Boys in Aurora, Ontario, Canada. He was assisted by Joseph 'Beak' Taylor and Edward 'Ned' McKeown, later editors of Canadian Fandom. The cover was printed with the original title of "The Rocket", but when Hurter found out a fanzine already existed with this title, he covered it up with "Censored" and this became the new title of his fanzine.
By issue four, released in June 1942, Censored was a member of the FAPA. The cover of this issue was a multicoloured silkscreen of a lunar landscape inhabited by dueling astronauts by Hurter and Ron Smith.
In 1942 Hurter moved to Montreal to attend McGill University, where he joined the Montreal Science Fiction Society and resumed publishing Censored with the assistance of Tim Buck and Bert Joss. Issue five appeared in September 1948 with a three colour silkcreened cover featuring a space ship blasting off into space by Hurter and Smith.
The last issue, issue six, appeared in 1951 with another three colour silkscreened cover of a lunar landscape and a 1950s rocket ship, again by Hurter and Smith.
Contributions included articles, fiction and essays by Leonard Ashley, Thomas A. Bauer, Allen Bernfeld, Barbara Bovard, Thomas Buck, John W. Campbell, Jr., Leslie Croutch (Light), Moe Diner, William Grant, Bert Joss, Damon Knight (Snide), Al Macrae, John Hollis Mason, Gordon Peck and Shirley Peck, Ken Richardson, Samuel Trenchard, Gerry Williams, and Sandy Worthen.
Columnists included Almo Berndiner reviewing films, Leslie Croutch with his column "Thoughts While Shaving", and Bert Joss reviewing books.
Cartoons were by Fred Hurter, Jr.
Poetry was contributed by Robert Bloch and Sandy Worthen.
External Link