Brighton Zinefest
From ZineWiki
Jump to navigation
Jump to search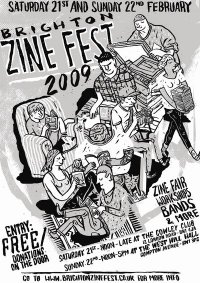 Brighton Zinefest was held on Friday 21 and Saturday 22 February 2009. The first day consisted of a vegan breakfast, workshops and a gig at the Cowley Club, a libertarian social centre. The following day was the zine fayre at the West Hill Community Hall. Both days were a roaring success, with lots of people attending. Candy floss was given away for free, people made a communal zine and the days were captured on camera. Hopefully a short film will result.
The zinefest happened again in 2010. The 2011 festival occurred on Feb 19-20. There was no festival in 2012.
Workshops
Workshops included:
Making a Communal Zine
Bookbinding
Vegan Cookery
UK Zine Yearbook 2009
How DIY is gender and sexuality in DIY culture?
Screenprinting 101
Papercraft
There were also films:
Music
On the Saturday, the bands were Serf Combat, Project Serendipity, North Pole, Top Chess and the Cut Ups. On the Sunday, there were acoustic sets from PJ and Gaby, Apologies I Have None, Mega Games Two and Liver and Lungs.
All the bands included zinesters in their ranks!
Fayre
Exhibitors on over thirty stalls included Bookville, Active Distribution, the Cowley Club, Marching stars, Erode Releases, Corndog Fanzine Distribution, Dead Trees and Dye, Shebang, Last Hours, and Sticks & Stones. There was also an individual zines stall for those who had a zine to sell or give away but did not get an allocated table.
Mark Pavey was screenprinting the zinefest logo onto T-shirts and paper for donations. 730 Radio provided background music when the bands were not playing.
Organisation
The zinefest was organised with not very much stress by a core group of five people, who each took on a different segment - most of the communication was done through the Brighton group within the Wemakezines Ning website.
External Links