Arcade distro
From ZineWiki
Jump to navigation
Jump to search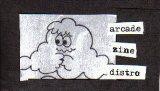 Arcade Distro is a Texas-based zine distro that has seen several incarnations since it first started in the year 2000.
This distro is no longer open
Stock: Arcade Distro carries zines, magazines, stickers, postcards, and buttons.
Zines: Craft zines, Personal zines, anarchist, music zines, travel zines, cookzines, and more literature related to the underground DIY and punk subcultures.
Examples: Art and Science of Billboard Improvement, Brainscan #21, Fatty Boom Boom #3, Greasespot #4, Heat Seeker #2, Rad Dad #7, Razorcake #42, Rad Dad #7, Snakepit #16
Ordering: The current mailing address for Arcade Distro and other information regarding how to place an order can be found on the "Ordering Info" page of the Arcade Distro website. Arcade Distro currently accepts cash, check, and money order for US orders, and Paypal for international orders. Postage costs are estimated based on the number of zines ordered. Orders usually ship on the day they are recieved.
Submissions: Arcade Distro is always accepting zines for consideration to be added to the catalog. For more information about where to send your zine and what else needs to e included with a submission, check out the "About" page of the Arcade Distro website.
History
The distro was called "As The World Burns" before Arcade Distro, and it was run by 3 kids: Brea, Catherine, and Zane (Brea and Zane are brother and sister). They ran it first out of Marshall, Texas, and then Austin.
It was passed down to Jessica Champion, who also wrote Option Paralysis Zine. Jessica ran Arcade Distro out of Austin from 2002- 2005.There was no particular theme, though the distro reflected her personal preference for Craft zines, Personal zines, and political literature. The Arcade Distro was on an indefinite hiatus from 2005- 2007, as Jessica no longer had time to run the distro. She commented that running a website and the mail order aspects of a distro were very time consuming.
In June of 2007, Jessica kept her promise to pass down the Arcade Distro. She mailed the remaining 'zines to Lauren, a former fellow collective member at Monkey Wrench Books on the condition that Lauren made the same promise she had made not to let the distro die. Lauren now runs the distro out of Houston and has been involved with various other projects including Greasespot zine, Razorcake magazine, and the Capitol City 'Zine Compilation.
Lauren, along with Aaron (who helped run the distro until he moved to San Antonio in the fall of 2007) began their new incarnation of Arcade Distro by tabling at hardcore shows in the Houston area. They sold the zines that were passed down to them in order to raise money to buy zines that are more in line with their own interests. They focused on carrying zines that were made in Texas, as well as anarchist and DIY literature.
Contact
For more information, contact arcadedistro@gmail.com
External Link