Zeus
From ZineWiki
Jump to navigation
Jump to search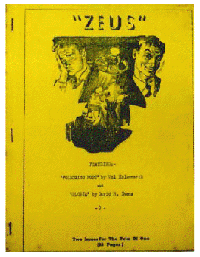 Zeus is a science fiction fanzine by Ronald Levy, joined later by Bert Castellari and Roma Castellari.
Zeus was a product of the Futurian Society of Sydney and was first published in 1940 in Sydney, N.S.W., Australia. William Veney, in Mumblings from Munchkinland #13, recalls the beginnings; "Zeus was an attempt by six fans to bring out a composite fanzine."
After issue two there was a split, and for awhile it was reported in various fanzines that there would be two issues of issue 2 coming out - one by Ron Levy and on by Noel Dwyer. But, according to the Futurian Observer issue 25, Kevy and Dwyer, "...got together on the matter and arrived at a decision, - said decision being peaceable." However, in issue 27 Graham Stone writes in a letter, "As Ron Levy said at that meeting, everything will be all right till the next feud!". In the fan mags section there is a listing for "Zeus (psuedo) - imitation is the sincerest form of flattery", followed by a review of Ron Levy's Zeus, saying that it, "prints general and miscellaneous material and gets a good selection of this."
Art work was by Roma Castellari and Bruce Sawyer.
Contributions were from Bert Castellari (Futurian Observer), David Evans, Warwick Hockley, Vol Molesworth, Bruce Sawyer, and William Veney (Futurian Observer).
Six issues were released in all, the first two in 1940, issues 3-5 in 1941, and the 6th in Spring 1942.
Zeus was reviewed in the July 1941 issue of Startling Stories, listing Ronald B. Levy, Bert F. Castellari and Roma A. Castellari as editors.
The April 1942 Futurian War Digest #19 announced the end of Zeus, as conscription has begun and Bert Castellari is called up, and Ron Levy is fully occupied with university.
Mumblings from Munchkinland issue 28, released early 2010, contains a photo and a history of Roma Castellari, regarded as the first female member of organized Australian fandom.