Wyndcliffe Watch
From ZineWiki
Jump to navigation
Jump to search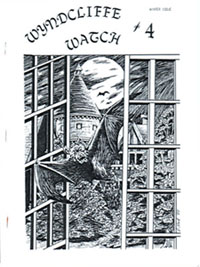 Wyndcliffe Watch is a fanzine edited by May Sutherland and published by Medallion Press.
Wyndcliffe Watch is dedicated to the original television series Dark Shadows, with particular attention to the character Dr. Julia Hoffman, played by Grayson Hall. It began as the official organ of the Wyndcliffe Dark Shadows Society, based in Tacoma, Washington, U.S.A. It featured convention reports, essays, fiction, poetry, art work, comics, photographs, and letters.
Wyndcliffe Watch first appeared in October 1988, with #2 following in December 1988. Issue 3 was released June 1989, #4 in February 1990, #4 in Summer 1990, #6 in December 1990, and #7 in Summer 1991,and #10, was published in 1993. The last issue was #11.
Contributors of writing included Connie Jonas (The Music Box), Jane Lach, Lori Paige, Anna Shock, Donna Sprinkle, May Sutherland, and Sharon Wisdom.
Art work was by Keith Hammer, Jane Lach (cover #4), Sherlock (CollinSports), and Marcy Wilson (cover #10).