CollinSports
From ZineWiki
Jump to navigation
Jump to search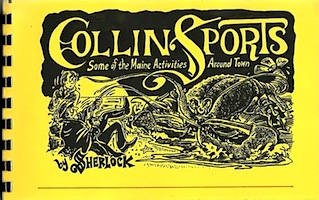 CollinSports is a fanzine by Sherlock.
Published in the U.S.A., CollinSports is a digest sized collection of art work and cartoons by Sherlock. It is 57 pages.
Devoted to the television series Dark Shadows, this fanzine takes its title from the fictitious town of "Collinsport", a small coastal fishing village which is said to be located about 50 miles southeast of Bangor, Maine, U.S.A., north of Frenchman Bay and near Bucksport, Maine. CollinSports is a humor fanzine that imagines the sports activities taking place in Collinsport. The subtitle is "Some of the Maine Activities Around Town".