Trash Compactor
From ZineWiki
Jump to navigation
Jump to search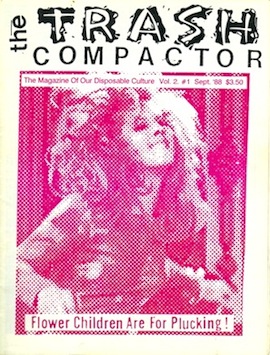 Trash Compactor is a film zine based in Toronto, Ontario.
Founded by Hal Kelly and Angela Ciavarella in the 1980s and running through the mid-1990s, the zine concentrated on B Movies. It was subtitled "The Magazine of our Disposable Culture."
Contributors of writing included Angela Ciavarella, Ira Gluck, G.B. Jones Hal Kelly, Bruce LaBruce, John Lamont, and Winston Sin, among others.
Contributors of artwork included Seth, Fiona Smyth, and Maurice Vellekoop. among others.
Issue 10, June 1988: held at Wellington NZ City Library Zine Collection
Vol 2 #1, September 1988: cover headline: Flower Children are for Plucking
Vol 2 #3: Held at Toronto Zine Library
Vol 2 #4: Winter 1990: Contributions from G.B. Jones and Bruce LaBruce. Held at Michigan State University Libraries, and in the Dennis Cooper Papers at the Fales Library at New York University
Vol 2 #5, Fall 1990: cover headline: The John Ashley Folklore Guide
Vol 2 #6: Summer 1992: Blaxploitation Issue
Vol 2 #7: circa 1995: Bruce LaBruce interview, Mary Woronov interview
Vol 2 #8: Held at Toronto Zine Library
GLBT Historical Society of Northern California in San Francisco holds Vol 2 nos 2 and 4-8.
External Links