The Visitor
From ZineWiki
Jump to navigation
Jump to search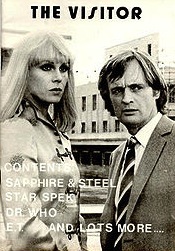 The Visitor was a media science fiction fanzine by Ann O'Neill.
Three issues of The Visitor were released in the 1980s in the UK.
The first issue appeared in January 1983, and featured content on Blake's 7, Doctor Who, E.T., and Sapphire and Steel.
The second issue also appeared in 1983. it featured cover art by David Bowden, and illustrations by Dan Bowden and David Bowden. Contributors of writing included Dan Bowden, J. J. Jacklin, Pete Krawlecki, Jackie Marshall (Space Rat, Queen Bat), Jean Merrick, Linda M. Short, and David Tulley. Media covered included Ace of Wands, Blake's 7, Doctor Who, and Sapphire and Steel.
Issue 3 was published in April 1984, and was the last issue.
Ann O'Neill was also one of the editors of the long running Doctor Who fanzine, TARDIS as well as the publisher of the titles 221B, Cry Wolf, and Standard by Seven.
External Links