The Science Fiction Yearbook 1957
From ZineWiki
Jump to navigation
Jump to search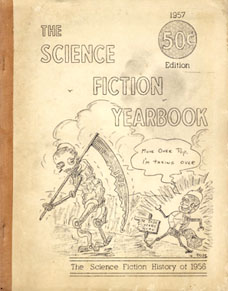 The Science Fiction Yearbook 1957 was a science fiction fanzine edited by James V. Taurasi, Sr., Ray Van Houten, and Frank R. Prieto, Jr., and published by Fandom House.
The Science Fiction Yearbook 1957 was published in Paterson, New Jersey, U.S.A. It was a popular release and had two printings.
This fanzine includes the articles "Science Fiction: 1956" by James V. Taurasi, Sr. and Ray Van Houten; "Annual Report: 1956" by Frank Prieto, Jr.; "1956 in Science Fiction" by Thomas S. Gardner; "Science Fiction Marquee" by Forrest J. Ackerman (Voice of the Imagi-Nation); "1956 in Books" by Stephen J. Takacs; "Science Fiction Market Survey" by Sam Moskowitz (Helios, New Fandom); and "As Of Now" by J. Harry Vincent.
Raymond Van Houten had previously been the editor of Tesseract from 1937 till 1938. James V. Taurasi has previously published Cosmic Tales from 1937 till 1941. In 1955, he and Ray Van Houten had won the first Hugo Award for Best Fanzine for their publication Fantasy-Times, which they published from 1941 till 1955. Beginning in 1956 Taurasi and Van Houten published Science Fiction Times with Frank Prieto.