The New Hieroglyph
From ZineWiki
Jump to navigation
Jump to search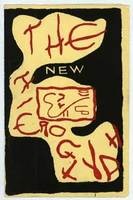 The New Hieroglyph was published in Forest Hills, N.Y., U.S.A. by Donald Wollheim.
The first and only issue was released in March 1944. It was a four page, mimeographed and stapled fanzine with silk screened covers.
This amateur magazine was founded "for the purpose of reprinting occasional pieces of fantastic poetry from the pages of obscure fantasy publications." This issue reprints three poems by Robert E. Howard - two from The Fantasy Fan, the other from The Phantagraph.