The Haunted Journal
From ZineWiki
Jump to navigation
Jump to search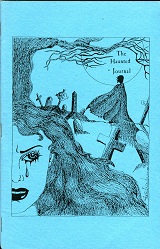 The Haunted Journal was the official publication of Dracula and Company. It was edited by Sharida Rizzuto, Thomas Shellenberger, and Sidney J. Dragon, and published by Baker Street Publications of Metairie, LA, U.S.A.
The premiere issue was "a triple issue but counts as a double as part of a subscription"; it was thus dated Winter 1986-87/Spring 1987/Summer 1987. It ran 118 pages.
Contributors of fiction, poetry, and nonfiction included Stacey Alexander, Janet Fox (Scavenger's Newsletter), Christopher Friend, Jule Ghoul, Ken Gilbert, Dwight E. Humphries, Eva Jones, Dale Kaczmarek, C.J. Nicastro, Roy Martin Nottestad, Thomas O'Connor, William C. Rasmussen, Patricia Russo, Sharida Rizzuto, John B. Rosenman, Wayne Allen Sallee, Thomas Schellenberger, Elizabeth N. Stinson, Edgar F. Tatro, Susan Liev Taylor, Bobby G. Warner, A.O. Wiedemann, and Craig Wilder.
Cover art was by Stacey Alexander, who also contributed interior illustrations, along with Wayne Ermatinger, Ken Friedmann, Christopher Friend, Jim Garrison, Allen Koszowski, and Sherry Watson.
Letters came from Carl Buchanan, Gary Lovisi, Brian Miller, and Chris Harold Stevenson.
Baker Street Publications produced other zines, such as Baker Street Gazette, The Collinwood Journal, The Collinsport Record, Horizons Beyond, Sleuth Journal, The Vampire Journal, and Movie Memories.