Some People Are Jerks
From ZineWiki
Jump to navigation
Jump to search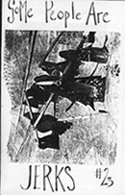 Some People Are Jerks is a zine from Austin, Texas, U.S.A., published in the 1990's.
The editors for this publication are Waverly, Zana, Sausylito and Lula. The zine covers the independent music scene of the mid 1990's, focusing on bands with women members, and includes interviews with Combustible Edison, Delta 72, Emily's Sassy Lime, Fifth Column (whose members included Caroline Azar and G.B. Jones, editors of Double Bill), Helium, Jessamine, Lungleg, The Smears, and Tsunami.
There are also articles such as "Don't Look At me Sideways-Don't Even Look Me Straight On!!!", about the stupid, rude, personal questions middle class white people ask waiters and waitresses, such as "Why is your hair that color?"; "Uppity Women Unite", about seeing the spoken word performances of Lydia Lunch and Exene Cervenka; "How to make a difference, dammit!!", about the actions you can take to change things in society; "Freak Magnet", about encounters with strange people; "Satan Shit", about researching books that have 'Satan' in the title which the writer didn't have time to read so, instead, made up a story; "A Lesson in Methods of Birth Control"; bad cops; plus letters from readers.
There is also a story about how the number 23 keeps cropping up in unusual ways in the editors lives: they go to a concert and get seats 23D and 23E; a friend had a birthday, and turned 23 on April 23rd, Lula's mother got the editors to hide Easter Eggs for the children in an apartment complex and upon waking the next day the editors heard the children cry, "I found all the eggs, there are 23!", and other strange coincidences. Hence, this was issue number 23.