Shadowland
From ZineWiki
Jump to navigation
Jump to search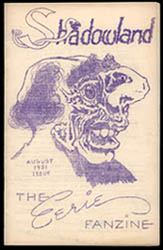 Shadowland was a science fiction fanzine published by Bill Shell and edited by Sam Martinez.
Subtitled "The Eerie Fanzine", Shadowland was released in the 1950s in Tulsa, Oklahoma, U.S.A.. It was a Fantasy Amateur Press Association publication, but also available to non-members. It was a hectographed zine of around 52 pages. At least six issues were released between 1951 and 1954.
Contributions included "The Art Gallery" by Terry Carr (Innuendo), fiction by William Clyde (a hoax fan created by Martinez), and Don Womanski, and poetry by Bob Farnham (The Chigger Patch of Fandom) and Orma McCormick (Starlanes).
In his review of Shadowland in Straight Up #5, Fred Robinson wrote, "A neat hectoed zine mainly intended for FAPA but available to non-members...I recommend it highly."
Sam Martinez later edited the zines Dry Martini, Mambo, and Fifty-Fifty. Fifty-Fifty was created for FAPA as well, and featured the combined efforts of Ron Parker, editor of Hoo-Ha, and Martinez, with illustrations by Bill Rotsler. Martinez's fiction was published in the first issue of 1952's Fantastic.
External Link