Scienti-Comics
From ZineWiki
Jump to navigation
Jump to search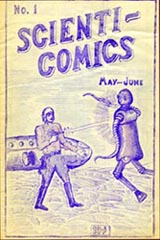 Scienti-Comics was a science fiction comic fanzine by Philip Bronson.
The first issue of Scienti-Comics was published in Hastings, Minnesota, U.S.A. in May-June of 1940. It was 20 page, color hektographed fanzine and featured a complete science fiction comic by Bronson called "Robot Doom".
The second issue was 38 pages, and featured contributions by C. Christopher Cross, Damon Knight, Robert Lowndes and a fan poll by Art Widner, editor of FanFare.
Bill Schelly, writing in the 2010 book Founders of Comic Fandom, describes the 1940s comics fanzines such as Phil Bronson's Scienti-Comics, Malcolm Willits' The Comic Collector's News, and David Kyle's Fantasy World as, "lonely little satellites looking for an orbit", which was not to come till the 1950s.
At the same he was publishing Scienti-Comics, Phil Bronson was also publishing the fanzine The Fantasite.
External Links