Rude Girl
From ZineWiki
Jump to navigation
Jump to search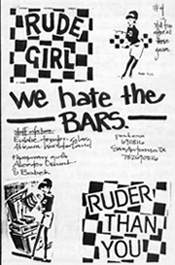 Rude Girl is a zine by Eulalie Fenster-Glas and Alison Wonderland from San Antonio, Texas, U.S.A.
Published in the early 1990's, Rude Girl adopts the graphics of the Two-Tone Ska movement from Britain. The subtitles of each issue give some idea of the content: issue one is the "Double Barrel Smile Style" issue, which attacks a multitude of subjects, and asks "I want to know why gay men get ballet, opera, high fashion, sleazy cinema, hairstyling & interior decoration...we get hiking boots, thrift store flannel, secondhand pickups and Sweet Honey in the Rock. I demand we reclaim our gender!"; issue two is the "Hate Issue", with articles such as "Hate Freedom Rings & Glad they're Becoming a Trendy Fashion Misstatement", "We Hate The Goddess", and "Hate the 'Queer' Phone Line"; issue three is subtitled "Ruder Than You", and talks about abortion rights and includes the article "Assimilation or Freedom Rings Part II"; issue four is "We hate the BARS", and states, "There is one facet of the gay community which is horrifying and wretched no matter where you go. We refer, of course, to the bars"; issue six says "Send Brother Rick to Hell" and tackles religion and evangelists. Rude Girl says, "God does hate fags - or he would if there were a God. And any lesbian who is a Christian is a double idiot because God hates women too"; issue eight is subtitled "Non-Issue: National Coming Out Day"; issue eleven asks, "Are You A Woman of Mystery?"; and issue twelve is the "Special Intense Issue".
Rude Girl sporadically featured reviews of zines such as Action Girl Guide, Butterknife Junior, Easily Grossed Out, Fembot, Fuh Cole, Outpunk, and Slut Utopia.
Rude Girl was one of the zines featured in Outpunk issue six, which was dedicated to reprints from zines editor Matt Wobensmith felt were influential in the scene.
Eulalie Fenster-Glas was also a co-editor of the zine Lushbaby.