Lushbaby
From ZineWiki
Jump to navigation
Jump to search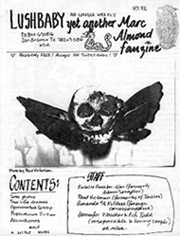 Lushbaby is a zine published in the 1990's in San Antonio, Texas, U.S.A.
Lushbaby initially started out as Lushbaby Weekly, one handwritten photocopied page published approximately once a week, and devoted to scurrilous gossip about the queer community of San Antonio. The revolving staff for various early issues was Lucifer Klee, Tommy Gunn, Penelope Pussy, Bryan, Adam Seraphic and Lava Sinclair.
After about a half dozen issues, it became Lushbaby Weakly for awhile, an irregularly published zine of many more pages and many more contributors, including Eulalie Fenster-Glas von Oddboddy, Cornelius Alex Dunwich, Alison Wonderland, and Erin 'Sassy' Clay. They also claimed voodoo queen Marie Laveau as a contributor. Titles of various articles included "Michelle's Appalling Taste", "How Ryan Has Changed (and is slowly becoming all the worst characters on TV)", "Pokey Corner" (about locals going to jail), "New San Antonio Bar Earns Bad Reputation With First Bloodletting", "More Roger Sex Facts", "Jim's Coffee Shop No Longer An Oasis In The Morass Of Despair Which We Call Life", "Lost Souls In Eternal Torment", and many more. Many of the articles were about other editors.
Lushbaby then became Lushbaby Weakly - Yet another Marc Almond fanzine. The staff for this incarnation of the zine was "Eulalie Fenster-Glas (formerly Adam Seraphic), Paul Thomas/Paul Victorian (of Dallas), Amanda St. Kildis/Alison Wonderland (foreign correspondent), Jennifer Wascher and Fifi Todd (inseparable & loving couple)". Other issues included editors Lucy Hateful Homosexual/Lucifer Klee, Robert, and Christine Griffin - Chicago correspondent. Despite the change of focus, with many photos and articles devoted to Marc Almond, the editors still included "Lushbaby News", reporting on the activities of their friends and fellow editors and, for the first time, included record and zine reviews. Articles include "$2200.00! Thrift Store Fantasy Comes True After 7 Years!", about finding $2,200.00 in a wallet left in a purse purchased at a thrift store, "Eulalie Swears Off Men", "F&F&DOM Mobbed", about new band Fairies & Faggots & Dykes Oh My! being thrown out of the mall after being mobbed by teenage girls, and "Kineson Dead, Bully For Bimbox" in which the editors claim homophobic comedian Sam Kineson cried "I don't want to die, don't let Bimbox get me", and credit Bimbox editors for his death.
The editors of Lushbaby also made three movies: Lushmovie, The Black Eyeliner Movie (featuring Erin 'Sassy' Clay), and The House Hunt. Fairies & Faggots & Dykes Oh My! recorded a cassette of sarcastic dance music and some Roger Miller covers.
Eulalie Fenster-Glas also co-published the zine Rude Girl.