Paradox
From ZineWiki
Jump to navigation
Jump to search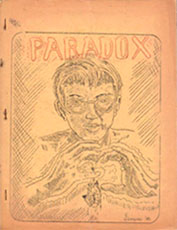 Paradox was a science fiction fanzine published and edited by Frank Wilimczyk.
Paradox was published in the early 1940s in New York City, New York, U.S.A. At least five issues were released. Issues 4 and 5 appeared in 1943.
Contributors of art work included Jim Mooney, among others.
Contributions of writing included book reviews by Phil Bronson (Scienti-Comics, Peon), and "Behind the Planet Stories Pulp Editor Door", by Larry Shaw, then editor of the pulp magazine Planet Stories, and the fanzine Leprechaun.
Letters came from Art Widner, among others.
Frank Wilimczyk later published two issues of Ad Interim in 1946, and then in the 1960s he wrote fanzine reviews for Focal Point.