Nazgul's Bane
From ZineWiki
Jump to navigation
Jump to search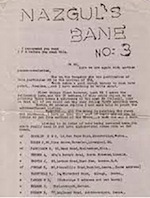 Nazgul's Bane was a fantasy fanzine by Ken Cheslin published in Stourbridge, Worcestershire, England.
Ken Cheslin, a member of 'The Fellowship of the Ring', a group devoted to the writings of J.R.R. Tolkien, published the first fanzine in the UK devoted to Tolkien. 'The Fellowship of the Ring' had its conception at the Pittsburgh Worldcon, "Pittcon", in September 1960, with the fanzine I Palantir as its Official Organ; Ken Cheslin was the British agent for the group, and Nazgul's Bane was the newszine for the British members.
The first issue was published between September,1960 and January, 1961.
Issue 2 arrived between February and August 1961. Contributors to this issue included Ted Johnstone (I Palantir, Mest, Shangri L'Affaires), and Bruce Pelz (I Palantir, Glamdring).
Issue 3 was published after Aug. 1961. Issue 4, the last issue, appeared at Years End, 1963.
Ken Cheslin also published the science fiction fanzine Les Spinge from 1959 till 1965.