Mest
From ZineWiki
Jump to navigation
Jump to search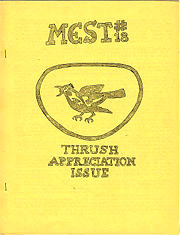 Mest is a science fiction fanzine by Ted Johnstone.
Mest was published in the 1960s in California, U.S.A. It was distributed through Spectator Amateur Press Society. Issue 4 was published in October 1960. Issues 5 to 8 appeared in 1961, and issues 18 and 19 in 1965. At least 26 issues were published, with issue 26 appearing in 1969.
Ted Johnstone published several filk songs in the pages of Mest. Issue 4 included "The Mimeo Crank Chantey"; Issue 5 featured the filk songs "The Traveling Trufen", and "The Ballad of Killer Kemp", both written by Johnstone. "The Ballad of Killer Kemp" is also included in the fan film The Musquite Kid Rides Again, sung on the soundtrack by Ted Johnstone, who appears in the film as "Tombstone Johnstone".
Issue 18 was special "Thrush" appreciation issue, and featured the story of a hoax perpetrated by Johnstone and other fans pretending to be from the Thrush organization, the archvillians of the television seriesThe Man From U.N.C.L.E.. Johnstone, under his birth name of David McDaniel, was the author of the paperback novel adaptations of the series.
Ted Johnstone also edited I Palantir, and was one of the editors of Shangri L'Affaires.