Mark Perry
From ZineWiki
Jump to navigation
Jump to search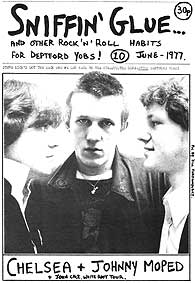 Mark Perry was the publisher of the first UK punk zine Sniffin' Glue.
Perry started his zine in July of 1976 after finding inspiration listening to the Ramones, then seeing them live. His zine title was also derived from a Ramones song. "It was the Ramones coming over was why I decided to do the fanzine. They came over supporting the Flamin' Groovies, who were doing the "Shake Some Action" tour and they were on Sire as well. They played the Roundhouse. It was damn rock and roll, feet on the monitors. Fantastic! Within a week, I got the fanzine out. I remember that there was a record shop called Rock On in Soho. I just asked, 'Are there any punk fanzines?' They said, 'Not much--do one yourself. Have a go.' So I did it very quickly." Within a few months of his first issue, Perry quit his job as a bank clerk to do his zine, which became an essential part of the growing UK punk scene. As the most visible punk writer during the UK punk explosion, Perry became somewhat of a spokesperson in the mainstream press and was frequently interviewed about the punk rock scene. The NME acclaimed "Sniffin' Glue" as "the nastiest, healthiest and funniest piece of press in the history of rock'n'roll habits".
Writers for Sniffin' Glue included Danny Baker, Mick Jones of The Clash, and Sandy Robertson, among others.
Perry was one of the early promoters of the punk (and zine) DIY ethic. In his final issues, Perry talked about ending his zine because he feared its absorption into the mainstream music press (it had gone from a print run of 50 to 15,000). He encouraged his readers to go out and start their own punk zines when he stopped publishing. Twelve issues were released.
In early 1977 Perry formed the record label Step Forward with Miles Copeland. They released early records by bands like the Fall, the Cortinas, Sham 69, and Chelsea.
In March of 1977 Perry formed the band Alternative TV with Alex Fergusson, editor of White Stuff. ATV's first show was the Nottingham Punk Festival in May of 1977. The band's first single, "Love Lies Limp," was a free flexi disc that was given away with the twelfth and final issue of Sniffin' Glue in August of 1977. While Perry stopped publishing, he continued to play music with Alternative TV. Their first recording sessions were at Throbbing Gristle's studio. They went on to release four albums and six singles, regularly doing interviews with zines such as Search and Destroy, and Jamming. In 1980 Perry released a solo LP, Snappy Turns, on the Deptford Fun City label, preceded by the "Whole World's Down On Me" 7", a cover of a Ken Boothe track. Another 7", "You Cry Your Tears", a collaboration with Dennis Burns, was released on the NB label in 1980. Perry went on to perform with The Good Missionaries, The Reflections, and The Door And The Window.
Perry got back into writing in 1996, providing the text for Erica Echenberg's photo book, And God Created Punk, published by Virgin. In 2000, Sanctuary Books published Sniffin' Glue: The Essential Punk Accessory, which compiled all the issues of Perry's original punk zine, along with newer writing and photos. Today Mark Perry still performs and releases music with Alternative TV.
External Links