Sniffin' Glue
From ZineWiki
Jump to navigation
Jump to search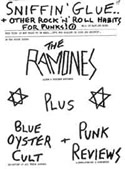 Sniffin' Glue (subtitle "And other Rock'n'Roll Habits") was edited and published by Mark Perry in Deptford (South London), England. The fanzine was co-founded by Danny Baker, who later became a British television personality after his days of rock journalism.
Sniffin' Glue covered the rise of the early punk scene throughout the UK, later expanding it's coverage to the rising punk scene throughout the world. The first issue was published July 13, 1976 with a print run of 50. It featured a hand-drawn/written cover and the name was derived from a Ramones song.
In March of 1977 Perry and friends formed the band Alternative TV, with Perry on vocals and guitar. ATV's first show was the Nottingham Punk Festival in May of 1977. The band's first single, "Love Lies Limp," was a free flexi disc that was given away with the twelfth and final issue of Sniffin' Glue zine in August of 1977. While Perry stopped publishing, he continued to play music.
In the zine history books, Sniffin' Glue will go down as the first pioneering punk zine that launched a thousand other zines, as well as firmly cementing zine publishing as part of the DIY punk ethic. In 2000, Mark Perry published Sniffin' Glue: The Essential Punk Accessory, a book compiling all the issues from the late 1970s.