Leeking Ink
From ZineWiki
Jump to navigation
Jump to search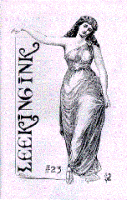 Leeking Ink, subtitled "a Relatively Legible Perzine", is a perzine made by Davida Gypsy Breier.
The zine has been ongoing since the 1990's. Since then Leeking Ink has been published regularly and in January 2006, the thirtieth issue was released. A wide range of unusual subject matter is explored, including articles on Baltimore, dead babies in jars, horror films, hurricanes, ticks and geeks, driving on the wrong side of the road in the UK, going to Ohio,recipes, and internet porn, among other things. The editor has also related her experience meeting Brad Douriff and has published photos of Corey Feldman in concert. Leeking Ink was featured in Volume Six and Volume Eight of Zine Yearbook.
Davida Gypsy Breier is also the editor of The Glovebox Chronicles, Rigor Mortis, and Xerography Debt.
External link