Joe's Jottings
From ZineWiki
Jump to navigation
Jump to search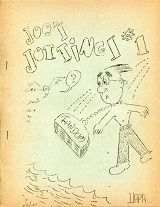 Joe's Jottings was a science fiction fanzine edited by Joe (X.J.) Kennedy from Dover, New Jersey, U.S.A.
Joe's Jottings ran five issues from Fall 1945 to September 1946.
Contributors included John Holbrook Caley, Dale Hart (Ichor), Joe Kennedy, William G. Matthews, S. Everett Neatley, and Milton A. Rothman (Fantasy Fiction Telegram, The National Fantasy Fan).
Joe Kennedy also published the very popular science fiction fanzine Vampire from 1945 till 1947. He later added an 'X' to his name and in the 1970s edited the journal Counter/Measures with wife Dorothy, and became poetry editor of Paris Review. He was a prolific author, writing at least 13 books, edited several anthologies, as well as writing at least 15 books for children.