Joanie4Jackie
From ZineWiki
Jump to navigation
Jump to search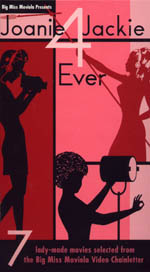 Joanie4Jackie is a zine on film created by Miranda July.
"You always suspected it and now you know its true: Girls and women are making movies everyday", proclaims Joanie4Jackie. Each issue consists of ten short films sent in to Joanie4Jackie by women across North America, Europe and Australia. The films are made utilizing a wide variety of mediums, such as video, Super 8, pixelvision and others, since all women are invited to participate, regardless of technical skills, using whatever medium is available to them. The types of films range from narrative to animation to documentary to diaristic. These films are compiled onto a video cassette, which was then sent to participants and subscribers, as well as being for sale. The compilations are also screened at film festivals and DIY movie screenings. Notable DIY filmmakers who have contributed to the project include Mary Billyou, Tammy Rae Carland, Lisa Hammer, K8 Hardy, Sarah Jacobson, G.B. Jones, Tara Mateik and Miranda July herself. Begun in 1996, each issue is a "Chainletter":
Issues
"Velvet Chainletter" (1996)
"Underwater Chainletter" (1996)
"U-Matic Chanletter" (1997)
"Silver Chainletter" (1998)
"CherryCherry Chainletter" (1998)
"MIA Chainletter" (1998)
"Break My Chainletter" (1999)
"Banana Cremeletter" (2000)
"Ball And Chainletter" (2000)
"Perfect 10 Chainletter" (2000)
"2001: A Chainletter" (2001)
"Who Stole My Chainletter?" (2002)
"Me & My Chainletter" (2002)
"The Frozen Chainletter" (2005)
"Girafferator Chainletter" (2006)

The project was originally titled "Big Miss Movieola", but legal threats from the owners of the word 'Movieola' forced July to change the name of her project to Joanie4Jackie. The project was envisioned as a way to encourage women to make films and as a vehicle to have their films seen by others. The Chainletter series contributed to the explosion of the DIY filmmaking scene of the '90's that continues today and has enabled female film directors to collaborate in creating their own culture. Joanie 4Jackie says; "You are the Lady Glitterati of the New Movie Uprising".
Miranda July is also the co-editor of the zine Snarla (with Johanna Fateman) and the director of the feature film You And Me And Everyone We Know.
Link