J. Cruelty Catalog
From ZineWiki
Jump to navigation
Jump to search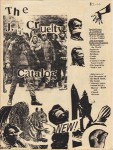 The J. Cruelty Catalog was a "medley" zine created by Erik Farseth, together with Andy Sheie, Jen Martin, Andy Honigman, and Jesse Emerick.
Originally a xeroxed music zine, with several contributors, J. Cruelty evolved into something else entirely. Later issues were essentially a one-man operation, with articles on the history of medieval heresy, Eastern European travelogues, political essays, and animal facts (such as "The Ecology of the Squirrel," and "Go, Lemmings, Go!").
Erik Farseth published the zine from 1992 - 1996, when he changed the name to Paper Scissors Clocks. In 2002, Farseth published one final issue of The J. Cruelty Catalog (J. Cruelty Volume 10).
A distinguishing feature of The J. Cruelty Catalog is the seemingly random numbering scheme. From the very beginning, the zines were published out-of-order. The first issue was actually J. Cruelty #5 ("Back-issues still available!"), followed by #4, #3, #1, #8, #12, Unlucky 13, The Holy Church of J. Cruelty, #27, and Volume IV: A New Hope. Zine libraries have found it especially difficult to catalog.
The J. Cruelty Catalogue is included in the Sarah and Jen Wolfe Zine Collection at The University of Iowa.
External Link