Inside The Old House
From ZineWiki
Jump to navigation
Jump to search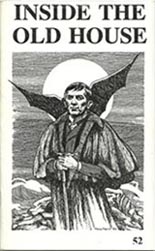 Inside The Old House is a fanzine devoted to the television programme Dark Shadows published by Old House Publishing and edited by Dale Clark.
Inside The Old House began publishing in Dallas, Texas, U.S.A. in 1978. Each issue features fan fiction, poetry, artwork, biographies of Dark Shadows characters, discussions of controversies within the Dark Shadows community, a fan letter column,and classified ads for Dark Shadows paraphernalia. More than 60 issues have appeared since the editor began publishing.
Contributors of writing have included Sandy Adams, T. Berry, Dianne Borsenik, Bill Branch, Dave Brown, Dale Clark, Melody Clark, Pat Cleese, Bonnie Coatney, Terri Cogliano, Shawn Downs, Ann Marie Erental, Mark Etheridge, Joyce Fink, Robert Finnocchio, Barbara Fister-Liltz (Knightbeat), Elaine Garner (Wolf Tracks), Jean Graham, Guy Haines, Geoffrey Hamell, Curtis Hayes, Jimmy Hutcheson, Nina Johnson, Kay Kelly, Emily Klaczak, Jane Lach, Jeann Luellen, William J. Mann, Allison McNeil, Teresa McGoff, Charles Mento, J.L. Miser, Sandra Necchi, Andy Nunez, Lori Paige, Adriana Pena, Eve Prietz, Susan Ramskill, M.J. Reid, Kathleen Resch (The World of Dark Shadows), Matthew Richardson, Marcy Robin (Shadowgram), Virginia Waldron, LouAnn Wojtalik, and others.
Poetry was by Sandy Adams, Tonya Berry, Dianne Keith Borsenik, Wynnie McBeth, Meghan Powell-Nivling, Kathleen Resch, Marcy Robin, and others.
Artwork is by Bill Branch, Terry Cogliano, Anne Marie Erental, Janet Meehan, Mary E. Overstreet (KarlenZine), and others.
Included in issue 64, from March 1999, is an interview with Jonathan Frid, by Nancy Kersey.
Inside The Old House, along with The World of Dark Shadows and Shadowgram, is one of the foundation fanzines of Dark Shadows fandom.
External Links